Todd "Eco Vox" Asayer is the voice of Dr. Flug in the original English version of Villainous.[1]
Biography
Voicing Dr. Flug in
Villainous
is currently Todd Asayer's only known role in any form of media. He was seemingly completely unheard of before his work in
Villainous
, and as such, very little information on him exists.
Gallery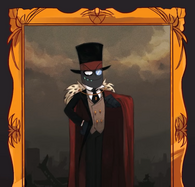 References