"The Portrait of Evil"[4] is the eighth episode of Phase One of Villainous, and also the eighth episode overall.
It follows 5.0.5. fixing a portrait, only for it to be moved back by Demencia.
Synopsis
5.0.5. enters a room, dressed like a maid, and fixes a painting of Black Hat. Demencia crawls down the wall and moves it back. 5.0.5. fixes it again. This continues until the Black Hat in the portrait slams himself against the wall of the painting, sending the manor askew, and Demencia and 5.0.5. flying out of the manor.
Credits
Trivia
The portrait of Black Hat contains, in the background, a crashed plane, similar in appearance and position to the one lodged in his manor.
This is the fourth episode Dr. Flug is absent from, the third being "Wearing Evil", the second being "Squeak", and the first being "Ice Cream of Fear".
This episode is one of three other episodes to have a deleted scene, the others being "Sculpting Evil" and "Squeak".[5]
Cultural references
Gallery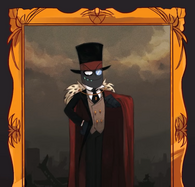 References
↑ 3.0 3.1 "I wrote the one with the statues, the egg, the painting, the music, and all the "phase 2" shorts." Diego Valenzuela. October 8th, 2017. Twitter
↑ Villainous Shorts Now On Cartoon Network Latin America YouTube Channel — May 19th, 2017. RegularCapital.com
Ad blocker interference detected!
Wikia is a free-to-use site that makes money from advertising. We have a modified experience for viewers using ad blockers

Wikia is not accessible if you've made further modifications. Remove the custom ad blocker rule(s) and the page will load as expected.