"The Note of Destruction"[4] is the tenth episode of Phase One of Villainous, and also the tenth episode overall.
It follows Demencia interrupting one of Dr. Flug's experiments by playing her guitar, only to be interrupted herself by Black Hat playing his organ.
Synopsis
Dr. Flug is about to drop a chemical into another chemical mixture while 5.0.5. watches on, when he is interrupted by Demencia playing her guitar. She continues playing until Black Hat and his organ appear. He plays and creates a large sound wave, causing 5.0.5.'s eyeballs to fall out.
 Credits
Trivia
Demencia wears a different outfit in this episode. It is unknown why.
The music sheets on Black Hat's organ don't seem to resemble any piece of music. There are no bars, and most notes are all on the same level, meaning the notes are likely just random.
Gallery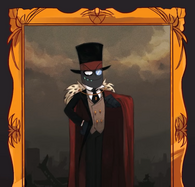 References
↑ 3.0 3.1 "I wrote the one with the statues, the egg, the painting, the music, and all the "phase 2" shorts." Diego Valenzuela. October 8th, 2017. Twitter
↑ Villainous Shorts Now On Cartoon Network Latin America YouTube Channel — May 19th, 2017. RegularCapital.com
Ad blocker interference detected!
Wikia is a free-to-use site that makes money from advertising. We have a modified experience for viewers using ad blockers

Wikia is not accessible if you've made further modifications. Remove the custom ad blocker rule(s) and the page will load as expected.