What's this?! I don't look like that!
This article is a stub. You can help the Villainous Wiki by expanding it.
¿Qué?
The subject of this article has not been officially released in English as of yet. As such, all information in this article is based on fan-contributed translations.
"The Lost Cases of the Future"[1] is the seventh episode of the Orientation Videos for Villains miniseries of Villainous, and the twentieth episode overall.
It follows Dr. Flug and Black Hat reviewing Aku, the main antagonist from Samurai Jack.
Credits
Trivia
The Portuguese title, "Os casos perdidos do futuro", is un-capitalized on the official YouTube release.[3]
Cultural references
Continuity
This episode implies the Black Hat puppet from "Demencia wuz here" is possessed by a demon or spirit.
Gallery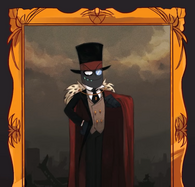 References