What's this?! I don't look like that!
This article is a stub. You can help the Villainous Wiki by expanding it.
¿Qué?
The subject of this article has not been officially released in English as of yet. As such, all information in this article is based on fan-contributed translations.
"The Lost Cases of Rhyboflavin"[1][3] is the second episode of the Orientation Videos for Villains miniseries of Villainous, and the twelfth episode overall.
It follows Black Hat reviewing one of the villains of Mighty Magiswords, Nohyas.
Credits
Trivia
The voice that can be heard singing during the episode's credits belongs to Humberto Cervera.[4]

The Black Hat Magisword, which appears in the short, is shown in the Warriors for Hire's Magiswords Safe which was displayed in numerous episodes towards the end of the series' second season.[5]
Gallery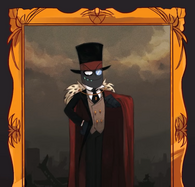 References