¿Qué?
The subject of this article has not been officially released in English as of yet. As such, all information in this article is based on fan-contributed translations.
"The Foul Flower"[4] is the second episode of Phase Two of Villainous, and the sixteenth episode overall.
It follows Black Hat advertising The Flower of Pure Foulness, which corrupts people into viewing others in the opposite way.
Synopsis
Black Hat greets the viewers about how friendship ruins evil plans and that The Flower of Pure Foulness will make heroes fight each other. Black Hat smashes the container the flower is in. The flower latches onto Dr. Flug and causes him to lash out at 5.0.5., making him cry. Soon after the flower is ripped off his chest by Black Hat, Dr. Flug runs after 5.0.5. to apologize. The camera pans over to show Demencia who asks if the flower is for her. He gives it to her causing the flower to possess her. Demencia sees Black Hat as a hero, quickly rips the flower off herself and throws it at Black Hat which then attempts to possesses him. The flower fails than wilts since Black Hat is heartless. Demencia comes back with a bat and smashes the flower.
Credits
Trivia
The axe-headed kajiu Badaxtra from Dexter's Laboratory can be seen in the background inside a tube.    
This episode was meant to celebrate Valentine's Day.
At the end of the short, a quick glimpse of an online newspaper article regarding "King Wazuq's Glove" is seen.
Gallery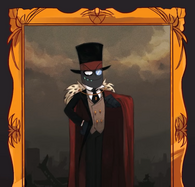 References
↑ 1.0 1.1 Valenzuela, Diego (2017-10-08). I wrote the one with the statues, the egg, the painting, the music, and all the "phase 2" shorts.. Archived from the original on October 8, 2017. Retrieved on December 2, 2017.
↑ 2.0 2.1 Cartoon Network LA (2018-02-09). La Flor Fétida | Villanos | Cartoon Network

(ES)

. Retrieved on February 9, 2018.
↑ Cartoon Network Brasil (2018-06-09). Dia dos Namorados | A Flor Fedorenta | Vilanesco | Cartoon Network

(PT-BR)

. Retrieved on June 20, 2018.
↑ AIanimationstudios (2018-02-08). 🎩¡Hey! Este mes les tenemos una sorpresa que les va a gustar ‼️ Estén al pendiente del canal oficial de Cartoon Network en Youtube y por televisión.😈 #Villainous #cartoonnetwork #CNLA #Blackhat

(ES)

. Archived from the original on February 9, 2018. Retrieved on February 9, 2018.