"Snonny" was the studio recording engineer of Villainous during its 2012 shorts and is a clean-up supervisor on the series.[2]
Credits
Webisodes
Biography
Snonny served as the studio recording engineer for the 2012 Villainous shorts. In July 2013, she began college at the University Center for Communication, where she stayed for two years, leaving in June of 2015. In July of the same year, she joined AI Animation Studios as a clean-up artist/illustrator, where she continues to work, being a clean-up supervisor for Villainous.[2]
Gallery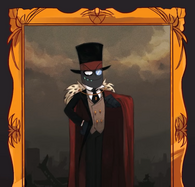 External links
References
Ad blocker interference detected!
Wikia is a free-to-use site that makes money from advertising. We have a modified experience for viewers using ad blockers

Wikia is not accessible if you've made further modifications. Remove the custom ad blocker rule(s) and the page will load as expected.