Mark Edward Fischbach (born June 28, 1989[3]), better known by his online pseudonym Markiplier, is a famous YouTuber as well as the voice of 5.0.5.[1] and Sexy Black Hat.[2]
Biography
Markiplier has been known for his sensationalized video game commentary, involving yelling, screaming, cursing, and even crying during his Let's Play videos. He does not censor the profanity in his videos, although he often subtitles his curses as "duck" (sometimes "luck") for "fuck" and "itch" for "bitch". He is known for branding his channel with a pink mustache (a reference to his alter ego, Wilford Warfstache) and has since dyed his hair pink, blue, and red. He often makes vlogs to talk one-on-one with the community about various topics, many inspirational, but usually regarding himself and his channel. He regularly attends conventions including PAX, VidCon, and Comic-Con, where he engages in signings, meet and greets, and panels. He has also been involved in Make-A-Wish Foundation to meet fans.
He is primarily known for his playthroughs of indie and horror games, including the Five Nights at Freddy's series, Amnesia: The Dark Descent and its sequel, Garry's Mod, Happy Wheels, Surgeon Simulator 2013, Minecraft, and Slender: The Eight Pages, among others.
He has collaborated on sketch comedy and gaming videos with a number of fellow YouTubers, including Jacksepticeye, LordMinion777, Muyskerm, PewDiePie, Matthias, Game Grumps, Cyndago, Yamimash, Jacksfilms, CaptainSparklez, Egoraptor and LixianTV. He has also collaborated with celebrities such as Jack Black and Jimmy Kimmel. He has had acting appearances in TomSka's asdfmovie series, Smosh: The Movie, Disney XD's Gamer's Guide to Pretty Much Everything,[16] YouTube Rewinds 2015 and 2016 and Five Nights at Freddy's: The Musical.
A recurring staple of his channel are charity livestreams, during which he plays games while campaigning for and collecting donations for various charities, including Cincinnati Children's Hospital Medical Center, the Depression and Bipolar Support Alliance, and Best Friends Animal Society. According to Fischbach, he and his viewers have raised a total of $1,118,645.14 as of July 2016.
Gallery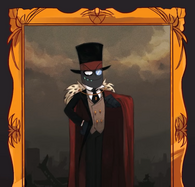 External links
References