José Antonio Macías (born September 19, 1967), also known as Pepe Toño Macías, is the voice actor of Dr. Flug in the Spanish dub of Villainous.[1]
Acting credits
Phase One
Biography
José Macías is an actor, dub director and Mexican speaker, and winner of an Auris Award. He is recognized for being the voice of James of Team Rocket in Pokémon, as well as being the recurring voice of actors Matt Damon, Leonardo DiCaprio, Chris Evans, Zach Galifianakis, among others.
He has a specialty in voice dubbing in 1989, working in recent years as a director. His actoral preparation obtained it through courses taken in the Faculty of Philosophy and Letters of the National Autonomous University of Mexico. He is also currently the voice voice of the cable channel Fox Life. In addition to his activity in dubbing, he also performs commercial speech.
He is also against any kind of mistreatment towards animals, and is vegan.
Gallery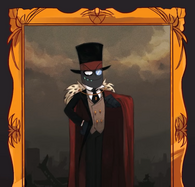 External links
References
| | |
| --- | --- |
| ↑ 1.0 1.1 "Conoce a los persona de Villainous del Malo al peor: Ahora es el turno del Dr. Flug, es el cientifico de la organización y mano derecha de Black Hat. Es brillante para la shine pero malo para los problemas cotidianos. Es ordenado, nerd, nervioso y miedoso. Le encanta hacer listener y tener todo en orden. Presentando a "Pepe" Toño Macías como la voz de Dr. Flug. Conoce al resto de los personajes sólo en Cartoon Network México ." AI Animation Studios. May 17th, 2017. Facebook | |
Ad blocker interference detected!
Wikia is a free-to-use site that makes money from advertising. We have a modified experience for viewers using ad blockers

Wikia is not accessible if you've made further modifications. Remove the custom ad blocker rule(s) and the page will load as expected.