What's this?! I don't look like that!
This article is a stub. You can help the Villainous Wiki by expanding it.
"Horrible Holidays"[2] is the first episode of Phase Two of Villainous, and the thirteenth episode overall.
The short features Black Hat in his attempt to promote his new Christmas product, a large, evil Hatbot.
Synopsis
Black Hat introducing himself and the invention he is trying to sell, a Hatbot. The camera then pans to Dr. Flug changing the setting of the Hatbot from "5.0.5" to "CARTOON PRODUCER". This causes the Hatbot to throw down the present that 5.0.5 was holding. The Hatbot than proceeds to stomp on the present, and shoot it with a laser. 5.0.5 starts to cry, while Demencia laughs at him. Dr. Flug than explains what the Hatbot does, while changing the settings from "CARTOON PRODUCER" to "ALMOST BLACK HAT". Dr. Flug than says how the Hatbot is fully controlled on a remote, which the Hatbot then quickly smacks out of his hands. The remote catches on fire, which causes the Hatbot to fritz out. The Hatbot reboots into "Nice Mode", and proceeds to grab 5.0.5, Dr. Flug, and Demencia and hug them, much to the latter 2's dismay. Black Hat walks in, and asks what is going on. Dr. Flug responds how the Hatbot rebooted into "Nice Mode". The Hatbot tells Black Hat to lighten up, which only adds to Black Hat's anger. Black Hat than launches himself at the Hatbot. The camera cuts off to a holidays greetings with the characters, than cuts back to Black Hat destroying the Hatbot.
Credits
Trivia
The levels listed on the control panel for the Hatbot are, from most evil to least evil:

ALMOST BLACK HAT
LINE ART & CLEAN UP
VIDEO GAME MOVIE ADAPTATION
SHIPPING FEES
TAXES
FANFIC WRITER
CARTOON PRODUCER
TOASTER THAT BURNS TOAST
5.0.5
Gallery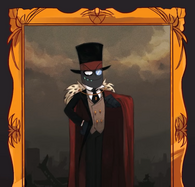 References