What's this?! I don't look like that!
This article is a stub. You can help the Villainous Wiki by expanding it.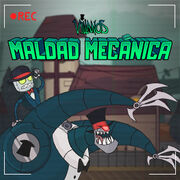 Evil Mechanics is the first and only Villainous flash game so far.
Story
Hatbot-ler and Hatbot-Sentinel collect hats.
Trivia
It cannot be accessed outside of Latin America without a VPN. Otherwise, the viewer will be redirected to their country's respective Cartoon Network website.