What's this?! I don't look like that!
This article is a stub. You can help the Villainous Wiki by expanding it.
"Black Hat Organization: 2018 Anniversary"[2] is the fourth episode of Phase Two of Villainous, and the twenty-first episode overall.
It follows Dr. Flug's third attempt to creating an advertisement for the Black Hat Organization that pleases Black Hat.
Trivia
Continuity
Cultural references
Gallery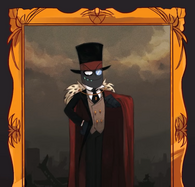 References