Alan Ituriel Pérez Sánchez[1] is the creator of Villainous, and the voice of Black Hat in both the Spanish dub and the original English version of the show.
Biography
Alan Ituriel is a 23-year-old[citation needed] director, storyboard artist, 2D animator and writer, as well as the creator of Villainous. He was discovered by the sign in Mexico during the Pixelatl animation festival at the IdeaToon Summit in 2014.
Gallery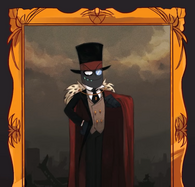 External links
References
↑ Arte

(ES)

. Archived from the original on April 9, 2017. Retrieved on December 7, 2017.