¿Qué?
The subject of this article has not been officially released in English as of yet. As such, all information in this article is based on fan-contributed translations.
"A Villainous Christmas"[1][2] is one of seven[3] webisodes of Villainous.
It follows Black Hat terrorizing people on Christmas.
Synopsis
Black Hat ruins Christmas for everyone in the town by inserting bombs in their homes. The episode is set to the song, "You're a Mean One, Mr. Grinch".
Credits
Directed and animated by:

Alan Ituriel (credited under "A.I.P.S.", which are his initials)
Trivia
The outfit Black Hat is seen wearing in the ending is the same (or at least very similar) to the one he wears in a Christmas-themed promo image for ThatPlaceToHangOut.com.[4]
Gallery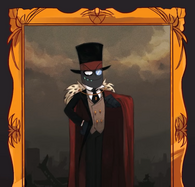 References